Find methods for your needs
Quantification of EPA 1694 Pharmaceuticals and Personal Care Products in Water at the ng/L Level Utilizing Online Sample Preparation with LC-MS/MS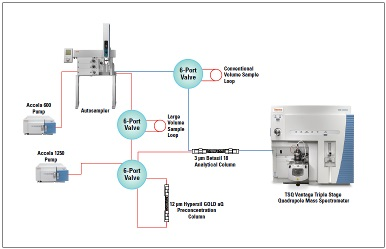 Description
There is growing environmental concern regarding the health impact of trace levels of pharmaceuticals and personal care products (PPCPs) in water resources. In response, the U.S. Environmental Protection Agency (EPA) published Method 1694, which determines dozens of PPCPs in water, soil, sediment, and biosolids by HPLC-MS/MS. We demonstrate a progressive approach to analyzing PPCPs in environmental sources of water at the ng/L level with online sample preparation using small volumes of water, thus saving time and reducing the cost of analysis.
| | |
| --- | --- |
| Market: | Environmental |
| Keywords: | Water analysis, TSQ Vantage, PPCPs |
| Matrix: | Water |
| Author: | Kevin McHale, Mark Sanders |
| Affiliation: | Thermo Fisher Scientific |
Uploaded on 3/2/2016.
For Research Use Only. Not for use in diagnostic procedures.