Find methods for your needs
AN269: Identification and Quantification at ppb Levels of Common Cations and Amines by IC-MS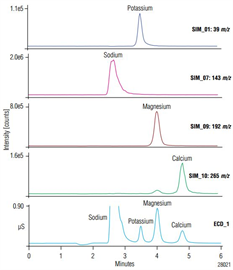 Description
The work shown here demonstrates the use of IC-MS for the determination of six commonly found cations and selected amines on an IonPac CS12A-5µm column. Confirmatory information was obtained using full-scan MS spectra showing positively charged cation species and characteristic adduct patterns. Quantification was achieved using selected ion monitoring (SIM) acquisitions for each target analyte.
| | |
| --- | --- |
| Market: | Environmental |
| Keywords: | RFIC, amines, ammonium, Calcium, cations, DEA, diethylamine, IC, IC-MS, IonPac CS12A column, magnesium, methylamine, MMA, monomethylamine, potassium, saline, SIM, sodium, TMA, trimethylamine, water, IonPac CS12A-5µm column |
| Matrix: | Bottled deep sea water |
Uploaded on 6/11/2015.
For Research Use Only. Not for use in diagnostic procedures.