Find methods for your needs
SMART Digest compared to classic in-solution digestion of rituximab for in-depth peptide mapping characterization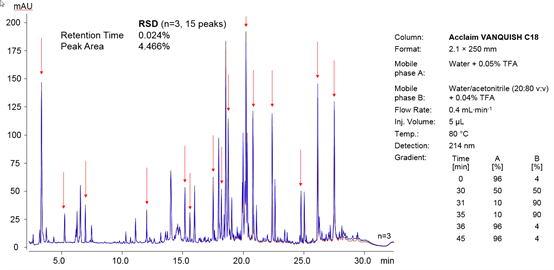 Description
This study compares the newly developed Thermo Scientific™ SMART Digest™ kit to classic in-solution protein digestion methods, focusing on protein sequence coverage and identified post-translational modifications (PTMs), including deamidation, oxidation, and glycosylation. A Thermo Scientific™ Acclaim™ VANQUISH™ C18 column with conventional water/acetonitrile-based gradients and the Thermo Scientific™ Vanquish™ Flex UHPLC system were used for separation in combination with the Thermo Scientific™ Q Exactive™ HF Hybrid Quadrupole-Orbitrap™ mass spectrometer.
| | |
| --- | --- |
| Market: | BioPharma |
| Keywords: | Monoclonal antibody, Peptide mapping, Vanquish, Tryptic digest, Biopharmaceutical, mass spectrometry, mAb, Q Exactive, Biomolecules, Reversed phase, Orbitrap, SMART Digest kit, in-solution protein digestion |
| Matrix: | Drug product |
| Author: | Martin Samonig; Alexander Schwahn; Ken Cook; Mike Oliver; Remco Swart |
| Affiliation: | Thermo Fisher Scientific |
Uploaded on 1/13/2017.
For Research Use Only. Not for use in diagnostic procedures.