Find methods for your needs
AU157: Using a Reagent-Free Ion Chromatography System to Monitor Trace Anion Contamination in the Extracts of Electronic Components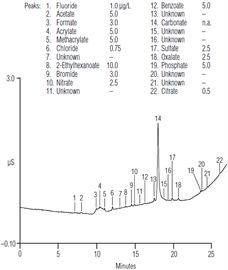 Description
Dionex Application Note 153 (AN153) showed that ion chromatography (IC) successfully determines low μg/L and, for some analytes, high ng/L anions in extracts of electronic components. The IC method in AN153 separated 14 inorganic anions and organic acids on an IonPac AS17 column set after sample preconcentration. In this application update a hydroxide gradient program similar to, but faster than, the program used in AN153 separates a new set of 14 anions.
| | |
| --- | --- |
| Market: | Other |
| Keywords: | Acetate, Acrylate, Electronic components, Formate, Methacrylate, Citrate, fluoride, Benzoate, Bromide, Nitrate, Sulfate, Chloride, Oxalate, phosphate, CRD, RFIC, 2-Ethylhexanoate, IonPac AS17-C |
| Matrix: | Water extract of electronic components |
| Author: | Weerapong Worawirunwong, Sumate Pengpumkiat, and Jeff Rohrer |
| Affiliation: | Thermo Fisher Scientific |
Uploaded on 8/10/2015.
For Research Use Only. Not for use in diagnostic procedures.