Find methods for your needs
AN263: Sensitive and Fast Determination of Endothall in Saline Water Sample by IC-MS/MS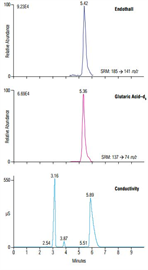 Description
Endothall, a widely used herbicide for both terrestrial and aquatic weeds, is a regulated contaminant for drinking water having a California Public Health Goal of 580 ppb. Here trace-level endothall in a saline water sample was determined directly without labor-intensive sample preparation by IC-MS-MS. The MS/MS instrument was operated in selected reaction monitoring (SRM) mode, requiring minimal sample cleanup and ensuring highly sensitive (low ppb) and selective quantitation. Isotope labeled glutaric acid (glutaric acid–d6) was used as an internal standard to ensure quantitation accuracy.
| | |
| --- | --- |
| Market: | Environmental |
| Keywords: | Herbicide, Carbonate, RFIC, Sulfate, ion chromatography, IC, IC-MS/MS, IC-MS-MS, IonPac AS16 column, mass spectrometry, surface water, endothall, saline water, SRM, glutarate-D6 |
| Matrix: | Saline water |
| Author: | Leo Wang and Bill Schnute |
| Affiliation: | Thermo Fisher Scientific |
Uploaded on 6/11/2015.
For Research Use Only. Not for use in diagnostic procedures.