Find methods for your needs

AN122: The Determination of Carbohydrates, Alcohols, and Glycols in Fermentation Broths - Mono- and Disaccharides Method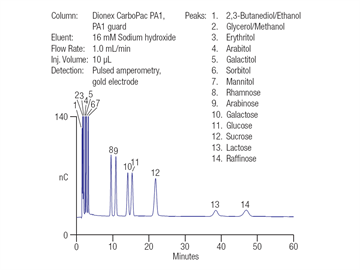 Description
This Application Note describes the use of two different anion-exchange columns with amperometric detection to analyze simple sugars, sugar alcohols, alcohols, and glycols in yeast and bacterial fermentation broths. The yeast Saccharomyces cerevisiae in Yeast Extract-Peptone- Dextrose (YPD) broth and the bacteria Escherichia coli (E. coli) in Luria-Bertani (LB) broth are common eukaryotic and prokaryotic fermentation systems, respectively. This record shows a method that is best for mono- and disaccharides.
| | |
| --- | --- |
| Market: | BioPharma |
| Keywords: | arabinose, CarboPac PA1 column, disaccharide, Electrochemical detection, Glucose, rhamnose, cell culture, fermentation broth, fermentation media, Lactose, Raffinose, Sucrose, PAD, monosaccharide, galactose, HPAE-PAD, TN21, TN71, YPD |
| Matrix: | Fermentation media |
| Author: | Valoran Hanko and Jeff Rohrer |
| Affiliation: | Thermo Fisher Scientific |
Uploaded on 5/22/2015.
For Research Use Only. Not for use in diagnostic procedures.