Find methods for your needs
High sensitivity analysis of amino acids by automated OPA derivatization on a Thermo Scientific Acclaim PolarAdvantage (PA) HPLC column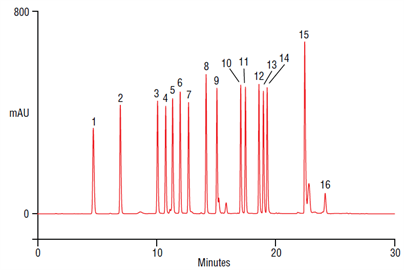 Description
The Thermo Scientific Dionex UltiMate 3000 system is applied for the analysis of amino acids. The amino acids are derivatized in the autosampler with OPA before separation on a Thermo Scientific Acclaim PolarAdvantage (PA) 5 µm HPLC column. The derivative provides low detection limits using either UV or fluorescence detection.
| | |
| --- | --- |
| Market: | Metabolomics |
| Keywords: | Acclaim PolarAdvantage, Alanine, Amino acid, Arginine, Aspartic acid, Glutamic acid, Glycine, Histidine, HPLC, Isoleucine, Leucine, Lysine, Methionine, OPA derivatization, Phenylalanine, Serine, Threonine, Tyrosine, UV detection, Valine |
| Matrix: | N/A |
Uploaded on 7/21/2014.
For Research Use Only. Not for use in diagnostic procedures.