Find methods for your needs
AN298: Determination of Dimethylamine in Metformin HCl Drug Product Using IC with Suppressed Conductivity Detection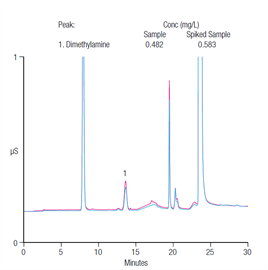 Description
Metformin (N,N-dimethylimidodicarbonimidic diamide) is a widely prescribed orally administered antidiabetic drug for the treatment of type 2 diabetes. This application presents a IC method used for quantitation of dimethylamine in metformin hydrochloride. This method uses a Thermo Scientific Dionex IonPac CS19 cation-exchange analytical column with methanesulfonic acid eluent produced by an eluent generator. The method separates dimethylamine from other cations typically present in drug products.
| | |
| --- | --- |
| Market: | Pharma |
| Keywords: | dimethylamine, Dionex IonPac CS19 Column, drug product, Impurities, Metformin, Pharmaceuticals, Reagent-Free Ion Chromatography (RFIC), Amine |
| Matrix: | Tablet |
Uploaded on 2/2/2015.
For Research Use Only. Not for use in diagnostic procedures.