Find methods for your needs
CAN77204: Determination of Formic and Acetic Acids in Petroleum Products by Ion Chromatography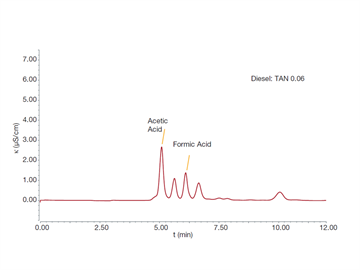 Description
Organic acids in crude oil, fuel, etc., are one of the biggest concerns of the oil, oil refining, and car manufacturing industries. Because of their corrosive properties and the associated costs of corrosion, organic acids have become a topic of great industrial interest. Ion chromatography (IC) can be used for the determination of low molecular weight organic acids in aqueous or water-miscible matrices. This application note summarizes the use and evaluation of an automated IC method for the direct determination of acetate and formate in diesel, oil, and diesel/oil mixtures.
| | |
| --- | --- |
| Market: | Energy |
| Keywords: | Eluent Generation, Formate, IonPac UTAC-LP1, Online sample preparation, petroleum, IonPac AS11-HC column, RFIC, IC, Acetate, Gasoline, ICS-2100 |
| Matrix: | Diesel, Diesel/oil mixtures |
| Author: | Joachim Trick1, Cornelia Wanner1, Cees Bruggink2, Detlef Jensen2 |
| Affiliation: | 1- Daimler AG Stuttgart Germany 2- Thermo Fisher Scientific |
Uploaded on 11/30/2016.