Find methods for your needs
AN116: Quantification of Anions in Pharmaceuticals (Carbonate/Bicarbonate Eluent)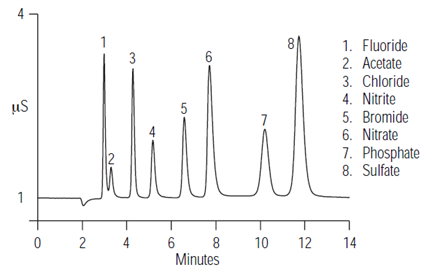 Description
The United States Food and Drug Administration (U.S. FDA) and regulatory agencies in other countries require that pharmaceutical products be tested for composition. This Application Note describes the use of two anion exchange columns, IonPac AS14 and IonPac AS11 with suppressed conductivity detection to analyze common anions in pharmaceutical formulations. Here we demonstrate that the IonPac AS14 column, using an isocratic carbonate/ bicarbonate eluent, resolves common inorganic anions in pharmaceutical products.
| | |
| --- | --- |
| Market: | Pharma |
| Keywords: | Bromide, Acetate, Anions, chloride, drug, FDA, fluoride, Ion chromatography, nitrate, Nitrite, pharmaceutical, phosphate, sulfate |
| Matrix: | Drug |
Uploaded on 6/23/2015.
For Research Use Only. Not for use in diagnostic procedures.