Find methods for your needs

AN1050: Evaluating Protein Glycosylation in Limited-Quantity Samples by HPAE-PAD, Monosaccharide Method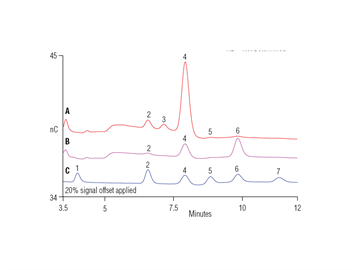 Description
HPAE-PAD methods provide a cost-effective option for investigating glycans without the derivatization required by many other methods. Electrochemical detection determines the glycans directly without the potential loss of sialylation or linkage rearrangement that may occur during analysis with other methods. HPAE-PAD can be used for determining monosaccharides, oligosaccharides, sialic acids, and other carbohydrates. This record shows a monosaccharide method.
| | |
| --- | --- |
| Market: | BioPharma |
| Keywords: | CarboPac PA20, glycoprotein, HPAE-PAD, human serum transferrin, monosaccharide, PAD, prostate specific antigen, PSA |
| Matrix: | Glycoprotein |
| Author: | Deanna Hurum, Lipika Basumallick, and Jeff Rohrer |
| Affiliation: | Thermo Fisher Scientific |
Uploaded on 6/8/2015.
For Research Use Only. Not for use in diagnostic procedures.