Find methods for your needs
TN119: Fast Separations of Organic Acids in an Orange Juice Sample Using High-Pressure Capillary IC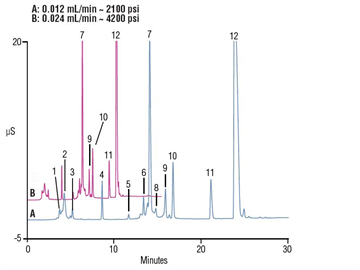 Description
Determinations of organic acid profiles in fruit juices are used in the beverage industry to characterize flavor, identify spoilage and potential sources of adulteration, and to meet labeling requirements for food products. In this study, inorganic anions and organic acids from a diluted orange juice sample are separated by anion-exchange chromatography on a capillary size IonSwift MAX-100 monolith IC column and detected by suppressed conductivity detection. For more information on organic acid determinations in fruit juices, please review AN143. An ICS-6000 can be used for this application.
| | |
| --- | --- |
| Market: | Food and Beverage |
| Keywords: | Formate, Glutarate, Malate, Maleate, Quinate, Citrate, ICS-4000 capillary IC, IonSwift MAX-100 column, IonPac AS19 column, ICS-5000+ capillary IC, fluoride, Nitrate, Chloride, Oxalate, phosphate, Sulfate, capillary IC, monolith, ICS-6000 |
| Matrix: | Orange juice |
| Affiliation: | Thermo Fisher Scientific |
Uploaded on 3/2/2015.
For Research Use Only. Not for use in diagnostic procedures.