Find methods for your needs
AN666: Routine analysis of polar pesticides in water at low ng/L levels by ion chromatography coupled to a triple quadrupole mass spectrometer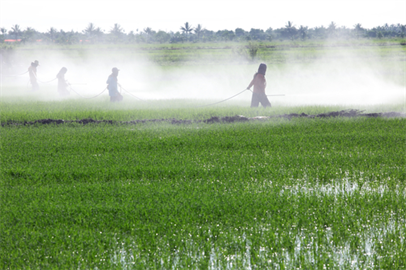 Description
We present an IC-MS/MS based method for high-throughput screening and quantitation of polar pesticide residues and their metabolites in water matrices below the current legislative requirements. Direct injection eliminates long and laborious sample preparation and makes the method more sensitive and faster than traditionally used LC-MS/MS methods, which utilize FMOC derivatization. This method can increase cost savings, provide more reliable results, and increase sample throughput.
| | |
| --- | --- |
| Market: | Environmental |
| Keywords: | AMPA, Glyphosate, IC-MS, TSQ Quantiva, Integrion, Pesticide residues, polar pesticides, AN64945 |
| Matrix: | Water |
| Author: | Astrid Kurz, Katerina Bousova, Jonathan Beck, Frans Schoutsen, Cees Bruggink, Milan Kozeluh, Lumir Kule, and Michal Godula |
| Affiliation: | Hochschule für Technik und Wirtschaft Aalen, Aalen, Germany; Povodi Vltavy state enterprise, Pilsen, Czech Republic; Thermo Fisher Scientific |
Uploaded on 4/17/2017.
For Research Use Only. Not for use in diagnostic procedures.