Find methods for your needs
Rapid Screening Method for Veterinary Antibiotics Using an Advanced Solid Core UHPLC Column and UHPLC System with MS/MS Detection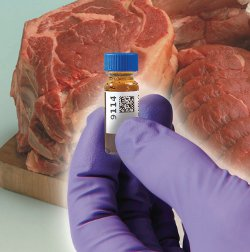 Description
There is increasing demand to provide rapid and selective screening techniques for a wide range of antibiotic drugs. Their abuse as a feed supplement in food animals is of growing concern and is subject to regulations globally. Creating screening methods for multiple analytes is more cost effective than dedicated methods for fewer analytes. This application shows the advantages of using the Thermo Scientific Accucore Vanquish C18 UHPLC 1.5 µm column and Vanquish UHPLC system for the analysis of thirty-six antibiotics.
| | |
| --- | --- |
| Market: | Pharma |
| Keywords: | Accucore, Antibiotics, Vanquish, Penicillins, Macrolides, Screening, Sulfonamides |
| Matrix: | Standards |
| Author: | Gordon Wilson and Derek Hillbeck |
| Affiliation: | Thermo Fisher Scientific |
Uploaded on 3/11/2016.
For Research Use Only. Not for use in diagnostic procedures.