Find methods for your needs

TN120: Fast Separations of Counter Ion in an Allergy Drug Tablet Using High-Pressure Capillary IC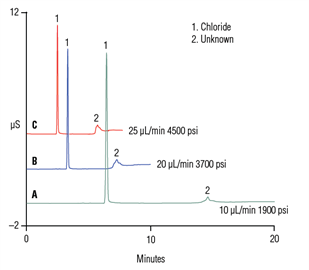 Description
This application demonstrates the advantages of high pressure capillary IC using the high efficiency Dionex IonSwift MAX 200 capillary size anion-exchange monolith column to provide high sample throughput by simply increasing the flow rate on a high pressure capable Dionex ICS-5000+ HPIC capillary IC, resulting in saving time and money. An ICS-6000 can be used for this application.
| | |
| --- | --- |
| Market: | Pharma |
| Keywords: | counter ion, HPIC, anions, RFIC, ion chromatography, Chloride, Anion-exchange, Suppressed Conductivity, capillary IC, Drug, Dionex IonSwift MAX 200, ICS-6000 |
| Matrix: | Drug |
| Affiliation: | Thermo Fisher Scientific |
Uploaded on 11/6/2015.
For Research Use Only. Not for use in diagnostic procedures.