Find methods for your needs
AU143: Determination of Chloride in Acid Copper Plating Bath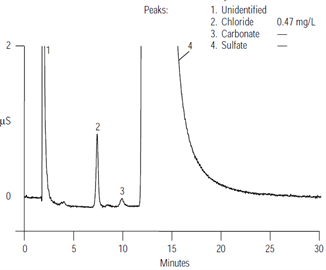 Description
Ion chromatography provides a convenient method for the determination of chloride in acid copper plating baths. Monitoring chloride concentration is of interest because it plays an important role in the quality of copper deposition. Compared to standard wet chemical techniques, IC offers improved speed and accuracy for this analysis. Chloride is separated from the excess of sulfate present in the copper plating bath. Chloride is detected by suppressed conductivity and the EG40 eluent generator is used to prepare the 30 mM potassium hydroxide eluent on-line.
| | |
| --- | --- |
| Market: | Chemical |
| Keywords: | Copper Plating Bath, IonPac AS15 column, Suppressed conductivity, RFIC, Chloride |
| Matrix: | Acid copper plating baths |
| Author: | Edward Kaiser and Jeff Rohrer |
| Affiliation: | Thermo Fisher Scientific |
Uploaded on 7/21/2015.
For Research Use Only. Not for use in diagnostic procedures.