Find methods for your needs
AN1053: Determination of Dissolved Manganese in Lithium/Manganese Oxide Battery Electrolyte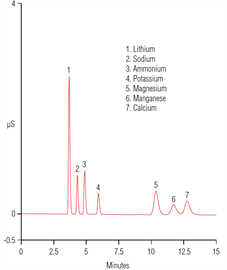 Description
The application uses an RFIC system with suppressed conductivity detection to quantify dissolved manganese in the simulated electrolyte of a Li/LiMn2O4 battery. The method uses the Dionex IonPac CS12A column, which was designed to deliver good peak shapes for cations such as manganese(II) (Mn2+), with methanesulfonic acid (MSA) produced by an eluent generator. The method is sensitive, accurate, reproducible, and easy to execute, requiring only the addition of deionized water to the RFIC system.
| | |
| --- | --- |
| Market: | Material Science |
| Keywords: | ammonium, Calcium, Cathode, IonPac CS12A Column, Lithium, Lithium-Ion Battery, magnesium, Manganese, Potassium, Reagent-Free Ion Chromatography System, RFIC, Sodium |
| Matrix: | Electrolyte solution |
Uploaded on 2/12/2015.
For Research Use Only. Not for use in diagnostic procedures.