Find methods for your needs
Increasing Productivity in FAMEs Analysis through Increased Selectivity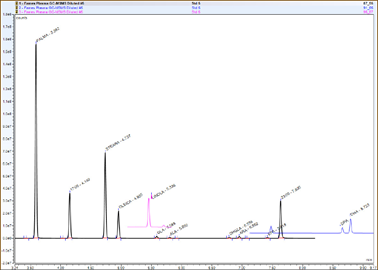 Description
In this work, the performance of the Thermo Scientific TSQ Duo system is assessed for the quantitative analysis of 11 FAMEs in human blood spot extracts. The TSQ Duo system offers analysts a unique choice by allowing the use of single quadrupole methods and enabling the automatic transition to triple quadrupole on the same system. This application note illustrates the stepwise process of upgrading methods from single quadrupole to triple quadrupole using Chromeleon CDS software.
| | |
| --- | --- |
| Market: | Clinical Research |
| Keywords: | GC-MS/MS, AutoSRM, Blood Spot, Chromeleon Chromatography Data System, Fatty Acid Methyl Esters (FAMEs), Quantification |
| Matrix: | Blood |
| Author: | Dominic Roberts, Cristian Cojocariu, Paul Silcock |
| Affiliation: | Thermo Fisher Scientific |
Uploaded on 11/16/2015.
For Research Use Only. Not for use in diagnostic procedures.