Find methods for your needs
TN124: Determination of Inorganic Anions in Acid Rain Using a Dedicated High-Pressure Capillary Ion Chromatography System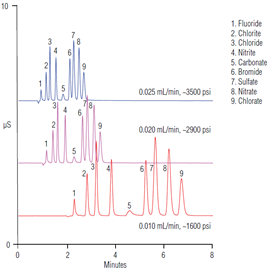 Description
Ion chromatography is a well-established technique for determining inorganic anions in acid rain. This Technical Note describes the determination of inorganic anions in rain samples by employing high-pressure ion chromatography (HPIC) and the use of a 4 µm particle size column, the Dionex IonPac AS18-4µm.
| | |
| --- | --- |
| Market: | Environmental |
| Keywords: | Chlorate, Chlorite, HPIC, anions, Nitrate, RFIC, ion chromatography, Acid rain, Nitrite, Chloride, Sulfate, Anion-exchange, Suppressed Conductivity, capillary IC, Bromide, Dionex IonPac AS18-4µm, Environmental water analysis Fluoride |
| Matrix: | Water |
Uploaded on 11/10/2015.
For Research Use Only. Not for use in diagnostic procedures.