Find methods for your needs
AN1078: Rapid Separation of Benzenesulfonate in Amlodipine Besylate by High-Pressure IC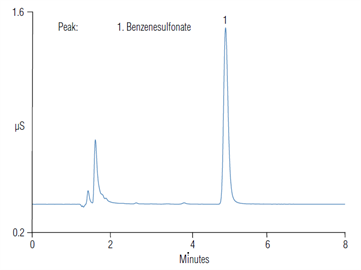 Description
As a part of this application, a Dionex IonPac AS18-4 μm Analytical column (2×150 mm) was evaluated for the determination of benzenesulfonate in amlodipine besylate, to increase sample throughput. This column uses the same ion-exchange chemistry as the IonPac AS18 column described in this study but with smaller substrate particles. The smaller particle size provides higher peak efficiencies and improved resolution. This and the Dionex ICS-5000+ HPIC system allow higher flow rates to be used that produce faster run times and increased productivity. An ICS-6000 can be used for this application.
| | |
| --- | --- |
| Market: | Pharma |
| Keywords: | USP monograph, HPIC, RFIC, AN 1078, Calcium Channel Blocker, IonPac AS18, ICS-6000 |
| Matrix: | Water |
| Author: | Brian De Borba and Jeff Rohrer |
| Affiliation: | Thermo Fisher Scientific |
Uploaded on 7/13/2015.
For Research Use Only. Not for use in diagnostic procedures.