Find methods for your needs
AN249: Determination of Methacholine Chloride and Potential Impurities Using a Reagent-Free Ion Chromatography System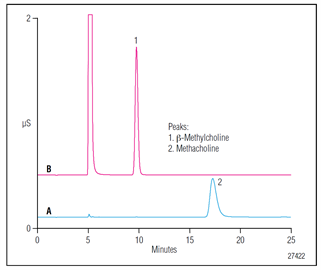 Description
This work presents IC-based methods for the detection and quantification of methacholine and possible impurities in solutions used to assess bronchial asthma of subjects evaluated in respiratory function labs and epidemiological field studies. Methacholine assay involves diluting the original solution (dissolved in 0.9% sodium chloride with or without 0.4% phenol) 1000-fold with deionized water, then analyzing the sample on a cation RFIC system. These methods demonstrate high precision and accuracy for both methacholine and possible impurities present in amounts approaching 1%.
| | |
| --- | --- |
| Market: | Pharma |
| Keywords: | Acetylcholine, AN 249, Bethanechol Chloride, Carbachol Chloride, IonPac CG17, RFIC, β-methylcholine |
| Matrix: | Phenol, Sodium chloride |
Uploaded on 2/23/2015.
For Research Use Only. Not for use in diagnostic procedures.