Find methods for your needs
AB133: Cost-Effective Determination of Inorganic Anions and Cations in Municipal Drinking Water Using Capillary Ion Chromatography (Cations)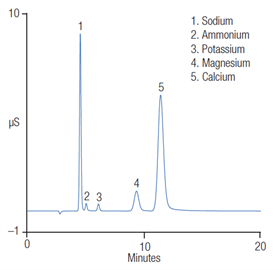 Description
This study describes the determination of inorganic anions and cations in drinking water using the Thermo Scientific Dionex ICS-5000 capillary IC system. Here shows the determination of inorganic cations in drinking water using Dionex IonPac CS12A capillary column.
| | |
| --- | --- |
| Market: | Water Analysis |
| Keywords: | Ammonium, Calcium, Capillary IC, cations, Dionex IonPac CA12A column, Drinking water, Ion chromatography, Magnesium, Potassium, RFIC, Sodium, Suppressed conductivity |
| Matrix: | Drinking water |
Uploaded on 10/30/2015.
For Research Use Only. Not for use in diagnostic procedures.