Find methods for your needs

AN291: Determination of Organic Acids in Wastewater Using Ion-Exclusion Chromatography and On-Line Carbonate Removal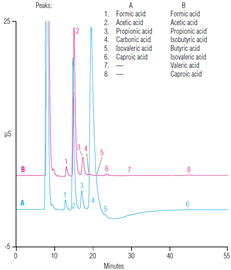 Description
This study shows a method for determining eight organic acids in wastewater using ion-exclusion chromatography and on-line carbonate removal. Normally, carbonate and inorganic anions are present in wastewater samples and interfere in organic acid analysis using ion exchange chromatography. In this study, the interferences are eliminated using ion-exclusion chromatography. Inorganic anions are eluted in the void volume and carbonate is removed by an on-line carbonate removal device.
| | |
| --- | --- |
| Market: | Environmental |
| Keywords: | acetic acid, butyric acid, caproic acid, formic acid, HFBA, ICE-AS1, isobutyric acid, isovaleric acid, propionic acid, TBAOH, valeric acid |
| Matrix: | Wastewater |
| Author: | Chanita Chantarasukon, Suparerk Tukkeeree, and Jeff Rohrer |
| Affiliation: | Thermo Fisher Scientific |
Uploaded on 2/20/2015.
For Research Use Only. Not for use in diagnostic procedures.