Find methods for your needs
AN000046: Identification of Polymer Additives Extracted from Single-Use Bioreactor Bags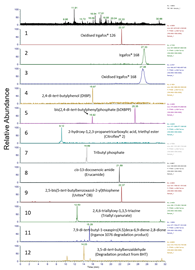 Description
Single-use technologies (SUTs), in particular single use bioreactors (SUBs), represent an important improvement in biopharmaceutical manufacturing due to reduced requirements for cleaning and sterilization while providing increased sterility assurance, reduced manufacturing turnaround times, and the elimination of cleaning validation and its associated costs. The present work explored the performance of ASE as an extraction technique for characterization of the plastic films (inner layers) from SUBs.
| | |
| --- | --- |
| Market: | BioPharma |
| Keywords: | Vanquish UHPLC, extractables, leachables, ASE350, Automated Extraction, bDtBPP, Non-targeted analysis, Plastic additives, Q Exactive HF, Single use bioreactor bags (SUBs) |
| Matrix: | Plastic materials |
| Author: | Beibei Huang and Jeffrey Rohrer |
| Affiliation: | Thermo Fisher Scientific, Sunnyvale, CA USA |
Uploaded on 6/15/2021.
For Research Use Only. Not for use in diagnostic procedures.