Find methods for your needs
Determine Trace Level Boron in Ultrapure Water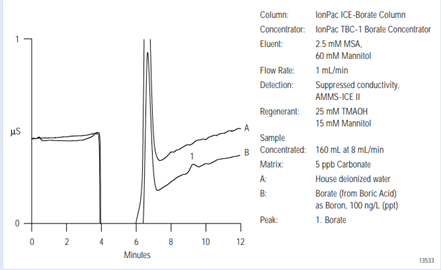 Description
Borate is one of the most weakly retained anions on anion-exchange materials, and is the first to break through many water purification systems. In the power generation and semiconductor industries, monitoring trace-levels of boron as borate in high purity waters is a measure of the efficiency of the water purification systems. The TBC-1 Trace Borate Concentrator Column and ICE-Borate Analytical Column are designed for this application. Mannitol forms anionic species with borate, which is more highly retained and conductive than borate itself.
| | |
| --- | --- |
| Market: | Nuclear; Electronics & Semiconductors |
| Keywords: | boron, Ion exclusion, borate, ultra pure water, ICE, UPW |
| Matrix: | 5 ppb carbonate, Ultra pure water, UPW |
| Author: | Rosanne Slingsby |
| Affiliation: | Thermo Fisher Scientific, Sunnyvale, CA USA |
Uploaded on 11/18/2020.
For Research Use Only. Not for use in diagnostic procedures.