Find methods for your needs

A fast, robust method for routine determination of polycyclic aromatic hydrocarbons (PAH) in drinking water by single quadrupole GC-MS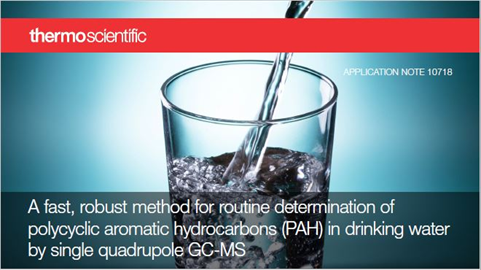 Description
The aim of this application note is to demonstrate the performance of the Thermo Scientific™ ISQ™ 7000 single quadrupole mass spectrometer, coupled with a Thermo Scientific™ TRACE™ 1310 gas chromatograph, for routine determination of 41 polycyclic aromatic hydrocarbons in drinking water.
| | |
| --- | --- |
| Market: | Environmental |
| Keywords: | GC-MS, PAHs, Polycyclic aromatic hydrocarbons, Fast, SIM, Drinking water, selected ion monitoring, full scan, EI, electron ionization, ExtractaBrite, FS, robust, routine analysis, single quadrupole |
| Matrix: | Drinking water |
| Author: | Michela Balsamo1, Giulia Riccardino2, and Cristian Cojocariu2 |
| Affiliation: | 1Laboratorio interno "Francesco Scognamiglio" della società GORI S.p.A gestore del SII Sarnese-Vesuviano della Campania, IT 2Thermo Fisher Scientific, Runcorn, UK |
Uploaded on 10/28/2019.
For Research Use Only. Not for use in diagnostic procedures.