Find methods for your needs
AN73063: Improved Profiling of Sialylated N-Linked Glycans by Ion Chromatography-Orbitrap Mass Spectrometry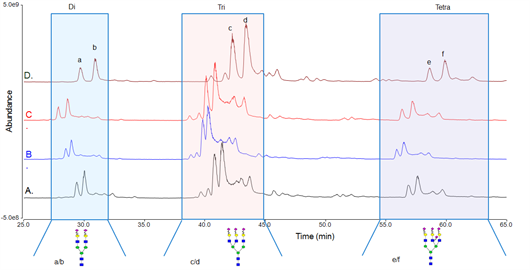 Description
The methods proposed here use a Thermo Scientific™ Dionex™ CarboPac™ PA200 column for glycan separation by HPAE. After the separation the glycans pass through a desalting device and in to the mass spectrometer. Fragmentation of glycans in the negative mode by higher-energy collisional dissociation (HCD) provides information-rich MS2 spectra which enables glycan structure annotation. This allowed correlation of glycan structure with observed elution behavior. Here we show that in some cases, changed elution conditions can be used to resolve different glycan structures.
| | |
| --- | --- |
| Market: | BioPharma |
| Keywords: | glycoprotein, HPAE-PAD, HRAM, Q Exactive, TN71, CarboPac PA200 column, HPAE-MS, sialylated glycans, AN73063, TN 20, TN 70671, TN20, TN70671 |
| Matrix: | DI water |
| Author: | Sachin Patil and Jeff Rohrer |
| Affiliation: | Thermo Fisher Scientific, Sunnyvale, CA |
Uploaded on 8/28/2019.
For Research Use Only. Not for use in diagnostic procedures.