Find methods for your needs

AN1137: Untargeted Metabolomic Profiling of Oral Cancer Cells Using Capillary Ion Chromatography Coupled with Orbitrap Mass Spectrometer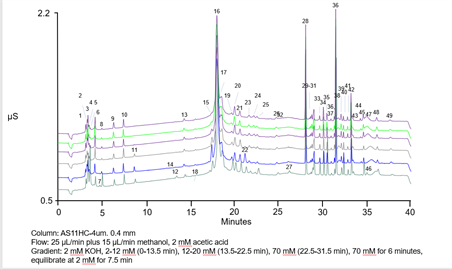 Description
Untargeted metabolomics profiling attempts to identify, quantify, and pathway-map the metabolites present in a biological system. Because metabolites are the end products of processes occurring in cells, tissues, and organs, metabolomics provides a snapshot of a biological system not possible with proteomics or genomics. IC provides superior selectivity resulting in superior separation capability and additionally delivers analytes in their ionized form. Here we demonstrate anionic metabolites in oral cancer cells using Cap IC with HRAM spectrometry.
| | |
| --- | --- |
| Market: | Metabolomics |
| Keywords: | ADP, AMP, Sugar phosphates, Organic acids, Uridine, Metabolites, cap IC, Lactate, metabolomics, HRAM, fructose 6-phosphate, glucose 6-phosphate, hydroxy acetone-phosphate, inosine phosphate, oxoglutarate, phosphate sugars, phosphoenolpyruvate |
| Matrix: | Extracts from oral cancer cell lysates |
| Author: | Terri Christison, Junhua Wang; |
| Affiliation: | Thermo Fisher Scientific |
Uploaded on 6/14/2019.
For Research Use Only. Not for use in diagnostic procedures.