Find methods for your needs

AN72915: Determination of Polar Pesticides in Grapes using a Compact Ion Chromatography System Coupled with Tandem Mass Spectrometry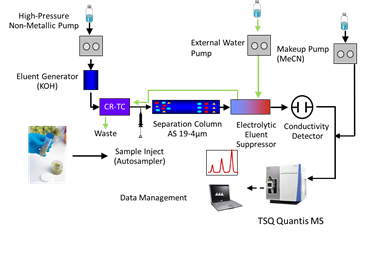 Description
A new workflow based on a modified QuPPe method and IC-MS/MS supports simultaneous multi-residue analysis of grape samples for polar pesticides. The IC-MS/MS method was developed using a Thermo Scientific™ Dionex™ IonPac™ AS19 4-µm column set and a compact IC system coupled to a Thermo Scientific™ TSQ Quantis™ triple quadrupole mass spectrometer. The results showed that the sensitivity, linearity,retention time precision, and recovery align with the SANTE/11813/2017 method performance criteria. The method provides lower LOQs than EU MRLs.
| | |
| --- | --- |
| Market: | Food and Beverage |
| Keywords: | AMPA, Glyphosate, IC-MS/MS, IC-MS, Integrion, RFIC System, polar pesticides, Dionex IonPac AS19-4µm column, TSQ Quantis™ Triple Quadrupole Mass Spectrometer |
| Matrix: | grape |
| Author: | Beibei Huang, Michael Volny, Claudia Martins, Alexander Semyonov, and Jeffrey Rohrer |
| Affiliation: | Thermo Fisher Scientific |
Uploaded on 3/7/2019.
For Research Use Only. Not for use in diagnostic procedures.