Find methods for your needs

AN72914: HPAE-PAD Profiling of N-linked Oligosaccharides from Glycoproteins using Dual Eluent Generation Cartridges - Gradient for Glycans from AGP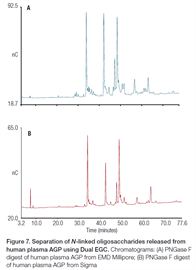 Description
Glycoprotein characterization and glycosylation profiling are important tasks in the development and production of biopharmaceutical proteins. This application note demonstrates Dual EGC capability and performance for profiling N-linked oligosaccharides released from glycoproteins using high-performance anion exchange chromatography with pulsed amperometric detection (HPAE-PAD). This record shows the separation of N-linked glycans from human acid-1 glycoprotein.
| | |
| --- | --- |
| Market: | BioPharma |
| Keywords: | glycoprotein, PNGase F, N-linked Glycans, Dionex ICS-6000, Dionex EGC 400 KOH, Dionex EGC 400 MSA, Dionex CarboPac PA200 column (1 mm i.d.), immunoglobulin G (IgG), α1-acid glycoprotein (AGP) |
| Matrix: | DI water, PNGase F Digest |
| Author: | Beibei Huang and Jeffrey Rohrer |
| Affiliation: | Thermo Fisher Scientific |
Uploaded on 2/12/2019.
For Research Use Only. Not for use in diagnostic procedures.