Find methods for your needs

Understanding synthetic biology using the Q Exactive GC Orbitrap GC-MS/MS system and high-resolution, accurate mass metabolomics library for untargeted metabolomics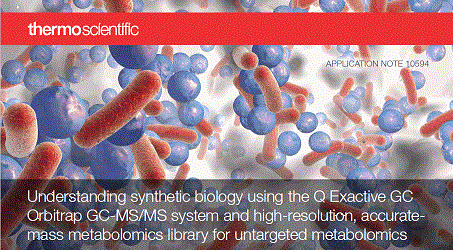 Description
The aim of this study was to investigate how the application of untargeted metabolomics can be used to understand the metabolic effects of inducer type and concentration on the metabolic fingerprint of engineered bacteria (E. coli DH5α harboring an IPTG-inducible, red fluorescent protein expression plasmid pBbA1a-RFP) under different growth conditions. This phenotypic information has the potential to inform upstream genetic strategies while at the same time better defining the most efficient use of this promotor for biochemical pathway expression.
| | |
| --- | --- |
| Market: | Metabolomics |
| Keywords: | metabolomics, Q Exactive GC, High Resolution Accurate Mass, multivariate statistics, RBS-promotor, synthetic biology |
| Matrix: | bacterial extract, bacterial growing media |
| Author: | Cristian Cojocariu,1 Maria Vinaxia,2Mark Dunstan,2 Adrian J. Jervis,2Paul Silcock,1 and Nicholas J WRattray2 |
| Affiliation: | 1Thermo Fisher Scientific,Runcorn, UK 2SYNBIOCHEM – Manchester Synthetic Biology Research Centre for Fine and Specialty Chemicals, Manchester Institute of Biotechnology, UK |
Uploaded on 3/7/2018.
For Research Use Only. Not for use in diagnostic procedures.