Find methods for your needs
AU160: Determination of N,N-Dimethyl-o-Toluidine andN,N-Diethyl-p-Toluidine in Ethylene Gas Samples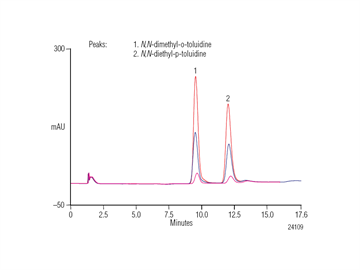 Description
Amines are found throughout nature and are synthesized for many commercial applications. They are used as pharmaceuticals, anti-corrosive agents, and chemical intermediates, and can indicate food spoilage. IC is an excellent technique for determining amines in a variety of samples, even low concentrations. Here is shown the separationand detection of two such amines: N,N-dimethyl-otoluidine and N,N-diethyl-p-toluidine. These amines are separated on a CS17 column with an MSA gradient and 9% acetonitrile, and are detected by absorbance at 210 nm.
| | |
| --- | --- |
| Market: | Chemical |
| Keywords: | Ion Chromatography, IonPac CS18, IonPac® CS17, UV Detection |
| Matrix: | Ethylene gas |
| Author: | Sumate Pengpumkiat, Weerapong Worawirunwong, Jeff Rohrer |
| Affiliation: | Thermo Fisher Scientific |
Uploaded on 7/16/2015.
For Research Use Only. Not for use in diagnostic procedures.